Drama
This program is intended to enable students to develop the necessary academic, technical and analytical skills that will provide them with a measurable foundation in the basics of sound theater practices. This degree is useful to an individual seeking employment in the entertainment and media industries. As with any liberal arts degree, salaries vary according to the field chosen by the degree holder.
With an Associate of Arts degree in Drama from STC, students will have attained the pre-professional foundation skills necessary to compete for beginning positions as technicians and/or performers.
In addition to career options in the field of Drama, students with AA-Drama degrees may also choose to pursue advanced degrees in related fields such as television, film, radio, industrial presentations, arts management, and public relations.
Students who desire a career as Drama educators and who earn a Bachelor's degree in this field would be eligible for employment in most public school districts, providing they obtain the necessary teaching certification. Students who earn a BA or BFA degree in Drama can also expect to be marketable in the business or corporate world in areas requiring a combination of verbal, visual and leadership skills. The AA and BA/BFA degrees also serve as the foundation for specialized studies in Drama such as Scene & Lighting Design, Costume Design, Technical Direction, Playwriting, Directing, Performance, Arts Management and Dramaturgy. Completion of the MA/MFA and Ph.D. coursework would make the graduates eligible for teaching positions at colleges and universities.
Associate Degree
| Name | E-mail | Phone | Location |
| --- | --- | --- | --- |
| Amaro, Nancy - Theatre Support Services Technician | namaro1 | 956-872-2301 | Pecan L 104 |
| Earhart, Venisa - Faculty Secretary | vgarza_2077 | 956-872-2366 | Pecan L 154 |
| Garza, Alfredo - Theater Support Coordinator | agarza_5463 | 956-872-2348 | Pecan L 129 |
| Name | E-mail | Phone | Location |
| --- | --- | --- | --- |
| Garza, Ms. Marcela | mgarza | 956-872-2354 | Pecan L 109 |
| Rodriguez, Joel Jason | jrodriguez | 956-872-2639 | Pecan L 155 |
For Adjunct Faculty please call (956) 872-2366
Communication Arts Festival - March 23 – 28, 2015
South Texas College and ATC invite the community to share stories for We're Here Now project

A new collaborative project between South Texas College Theatre and Brooklyn-based Applied Theatre Collective (ATC) has created a new opportunity for community members to become involved in the creative process. The goal of the community-based devising project, We're Here Now: Bridging Gaps, Creating Dialogue, and Strengthening Community through Performance in the Rio Grande Valley, is to explore border life in the Rio Grande Valley through storytelling and theatre. The project is co-sponsored by STC's Center for Mexican American Studies, History and Philosophy Departments
Community volunteers are invited to attend devising workshops scheduled on Saturday, March 21, from 12:00 p.m. to 5:00 p.m., Sunday, March 22, from 1:00 p.m. to 6:00 p.m. and Monday, March 23, through Wednesday, March 25, from 7:00 p.m. to 10:00 p.m. All workshops will be held at the STC Cooper Center for Communication Arts Black Box Studio, located at 3201 W. Pecan Blvd. in McAllen. The final community sharing will be held Thursday, March 26, at 8:00 p.m. at the STC Cooper Center for Communication Arts Main Stage.
"This is a new venture for South Texas College Theatre," said Jason Joel Rodriguez, chair of STC's Drama Program. "We hope to bring the community together to share their stories and experiences to devise a performance which encourages reflection, dialogue, and action. This will also complement our May 2015 production of The Highest Heaven, which focuses on youth and immigration. This is all intended to create avenues for the community to give thought and discuss the celebrations and the challenges of border life."
ATC is a group of peacebuilders and artists who use applied theatre techniques to establish creative space for dialogue, understanding and relationship building at the grassroots level. ATC believes in participant-centered pedagogy that is heavily influenced by Brazilian writer, activist, and educator Paulo Freire. This approach places participant interests first and puts them at the center of their own quest for change. ATC will use storytelling, devising, improvisation, and Augusto Boal's Theatre of the Oppressed techniques to create We're Here Now.
In addition, the project follows STC's Women's Studies Program's 10th Annual Human Trafficking Conference March 25-26, and precedes the college's annual Communication Arts Festival on March 27.
For additional information regarding the We're Here Now devising workshops, please call (956) 872-2639 or email jrdoriguez@southtexascollege.edu. Information on community performance, please call (956) 872-2301 or email namaro1@southtexascollege.edu.
Productions
| Name | Playwright(s) | Date |
| --- | --- | --- |
| The Highest Heaven | Jose Cruz Gonzalez | Apr. 30 - May 3, 2015 |
| William Shakespeare's Land of the Dead | John Heimbuch | Feb. 26 - Mar.1, 2015 |
| Peter Pan | J.M Barrie, a new version by John Caird and Trevor Nunn | Nov. 20-23, 2014 |
| The Boys Next Door | Tom Griffin | Oct. 16-19, 2014 |
| The House of Yes | Wendy Macleod | Jun. 26-29, 2014 |
| A Midsummer's Night Dream | William Shakespeare | May 1-4, 2014 |
| Roosters | Milcha Sanchez-Scott | Feb. 27 - Mar. 2, 2014 |
| Daddy's Dyin' Who's Got the Will? | Del Shores | Nov. 21-24, 2013 |
| Frankenstein | Philip Grecian, Novel by Mary Wollstonecraft Shelley | Oct. 17-20, 2013 |
| El Nogalar | Tanya Saracho | Jun. 27-30, 2013 |
| Tea Time | Mitch Harris | Jun. 20-23, 2013 |
| The Portrait The Wind The Chair | Y York | May 2-5, 2013 |
| A Dolls House | Henrik Ibsen | Feb. 21-24, 2013 |
| A Tuna Christmas | Ed Howard, Joe Sears, Jaston Williams | Nov. 29 - Dec. 2, 2012 |
| 44 Plays for 44 Presidents | Andy Bayiates, Sean Benjamin, Genevra Gallo-Bayiates, Chloe Johnston and Karen Weinberg | Nov. 1-4, 2012 |
| A Year With Frog and Toad | Robert Reale, Willie Reale Based on book by Arnold Lobel | Oct. 11-14, 2012 |
| Diner of the Dead, A Zombified Experience | Jason Huerta & Jerrome Warden | Jun. 28-30 & Jul. 1, 2012 |
| The Brothers Grimm Spectaculathon | Don Zolidis | May 3-6, 2012 |
Communication Arts Department Chair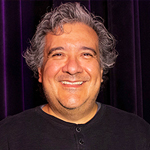 Joel J. Rodriguez
Office: Pecan L-154
Phone: (956) 872-2639
E-mail: jrodriguez@southtexascollege.edu
M.F.A. The University of Texas at Austin
B.A. University of St. Thomas
Department Contact
Office: Pecan Campus L-154
Phone: (956) 872-2366
Fax: (956) 872-2393